"Denise is an incredible real estate agent!! In our opinion, she's the best there is. She's more than an agent, she's a great friend and part of the family. She made us feel like we were her only client, always making herself available. You can definitely tell that she loves her job and is genuinely interested in helping her clients achieve their goals. She sold our house quickly with multiple offers in a matter of days. She has an extensive network that she calls upon immediately to find interested buyers.
She worked diligently not only to sell our home, but to also find the perfect new house for our family. She answers every call and shows up to each appointment with a contagious smile and positive attitude. She is reliable, trustworthy, and hardworking. Denise truly made home shopping an enjoyable experience. We would

highly recommend

her to anyone who's interested in buying or selling a home!
| | |
| --- | --- |
| | It's not just a house |

"Denise exceeded all expectations in every area of service. She kept us informed of new listings and was able to quickly focus on the types of properties that provided the things that we wanted. We greatly appreciate all she has done for us and only wish there was a rating greater than 5 stars.

"Denise and Doug went above and beyond in every category! Communication was always excellent, with lightning-fast response time whenever I had a question. Looking at properties was actually fun as we zeroed in on the ideal place. I know they were handling other deals simultaneously with great success, but they made me feel as though I was their only client. I could not have asked for a better home-buying experience!

Home Sale and Purchase
"Denise was a friend before she became our realtor three and a half years ago but she now feels like family as we have spent a lot of time together as she has diligently helped us find a home for us to live with our parents. Not only did our search to find the right home take 3 ½ years, (yes, you read that correctly – 3 1/2 years!), this was definitely not an easy task! It was extremely challenging as we kept discussing and investigating numerous neighborhoods in two different valleys and different housing styles (single family versus multi-generational), home values and often changed the search parameters from day to day and even went back and forth to some that we had previously discounted.
Even so, throughout all this time and these numerous challenges, while we ourselves and others hearing about it were often confused and frustrated, Denise quickly and enthusiastically switched gears and continued motivating us and working with us. She was determined to help us find the "house of our dreams." She was always cheerful, enthusiastic, remained calm, focused and so supportive and never made us feel that she was frustrated with our constantly changing search. She was extremely patient with us and so very helpful. She helped us sell the home we moved from quickly using various media creatively, timely and effectively (and she even got to know our neighbors!). She assisted us with everything from staging and various vendor referrals and quickly dealt with any and all issues that seemed to initially be obstacles.
We also have to thank Denise's husband, Doug Spicher and their son, Sam who helped with open houses, last minute gardening and other things with the same positive attitude and "team spirit." We all moved into our beautiful new home in August. It was the best decision we all have ever made.
I am certain we wouldn't be as happy as we are or where we are without Denise's perseverance, positive "can do" attitude, encouragement and assistance.
If you or anyone you know is looking for a terrific realtor think about contacting Denise and her business partner, her husband, Doug Spicher."

"Denise helped us selling our house and she was able to get us the best deal possible. She is so honest, patient and hardworking. She also showed us a lot of houses just to get an idea of the area to help us decide which area is best for us. She's been working with us to move in to the area we want for almost three years! She is

the best

!"

"Denise was a Godsend to our selling process. She not only did the major work of listing, she advised us on great ways to enhance the look and appeal of our modest home to get the price we were asking. Denise provided ideas on paint color, subtle improvements, a couple major things we might not otherwise have considered and, in general, counseled us to a better result than we initially expected. In addition to that coaching, she provided a bit of a buffer to some of the unexpected issues that came up, was a willing and knowledgeable advocate for us as sellers, and also a calming source a few times we came close to panic. It required a lot of work on our part in a short amount of time but, honestly, the process and results were better than we hoped and it was mostly due to her guidance.

"Denise Spicher

went above and beyond

to help our family prepare for the home selling and buying process. She was easy to reach, receptive to our needs, and quick to get items completed as expected. She was thoughtful and diligent in how she presented our home to buyers, which showed in the multiple (above listing) offers we received. She took care of all the details with confidence and grace."

"Denise Spicher is an amazing realtor. She is patient, extremely knowledgeable and really looks out for her clients. We were in a bidding war with several other people and on paper we weren't who they should have chosen. Denise went to bat for us and got us the home of our dreams! She also listed and sold our previous home, getting an amount that was above our listing price! I would

highly recommend

her for all your real estate needs!"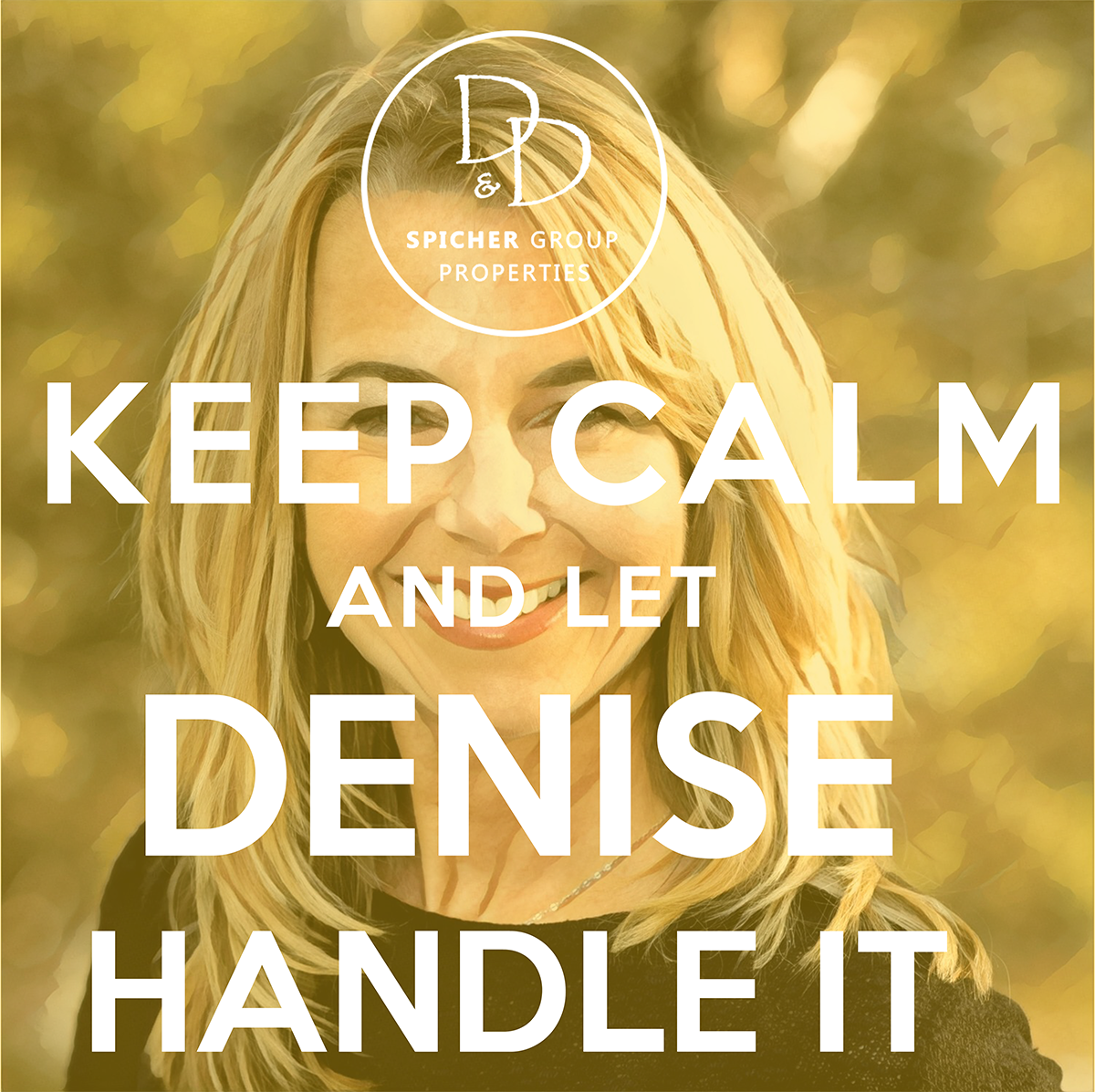 "We are very happy with the experience selling our house with Denise as our agent. Our house was sold in the first week! She went through things to get us ready before sale and through the escrow. Denise communicated well with all parties involved so we could avoid overcome some issues. She was calm, collected, knowledgeable and professional. We

highly recommend

her."

"Denise helped us sell our townhome and also buy a new home. She was a

tremendous help

through both processes and was able to answer the questions we had as she guided us through every step of the way. She really paid attention to our needs and wants throughout our time together. She was not only encouraging, but also helpful in so many ways"

"In the summer of 2016 my husband got a job offer and we had to sell and move within a few weeks. Denise was on top of everything. We were quickly on the market and she helped us set a price so we had multiple offers within a few days! We had to leave the state before our sale was finalized, and Denise went over and above taking care of everything. I have

no hesitation recommending her as your Realtor

.